Wheels Rallye Team News and Results

8 SIMPLE RULES RESULTS
Edward Davis/Martin Howard/ GM/1st Overall/10 points
Karen Flasch/solo/GM/2nd Overall/20 points
Steve Goodman/Claire Goodman/M/1st Master/30 points

Chip Kopp/solo/M/4th Overall/100 points

Scott Lindstron/solo/GM/5th Overall/100 points

6. John Adams/Peg McDonnel/B/1st Novice/170 points

Michael Pawloski/Michael Latoviet/N/7th Overall/180 points

8. Nancy Gallagher/Tom Gallagher/FT/1st Beginner/180 points

Jeff Scohnon/solo/FT/1st Place First Timer/220 points

Lou Bradley/Scott Ury/N/10th OveralL/230 points



VERY SMALL ATTENDANCE FOR THIS SEASON'S OPENER, BUT EVERYONE HAD A GREAT TIME.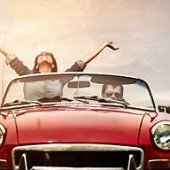 RALLYE AND AUTO CLUB LINKS CLICK BELOW
ANOTHER SMALL TURNOUT TO OPEN THE SEASON - RALLYE ENTHUSIASTS WE NEED YOUR SUPPORT ON THESE EVENTS TO KEEEP SPONSORING RALLYES. Everyone had fun Here are the results. Let's get the season rolling on the next event. Thanks. Highlight was that only two cars found the location to the treasure, the 2nd and 3rd place cars, and The 3rd place car, the Goodman's, also found the treasure.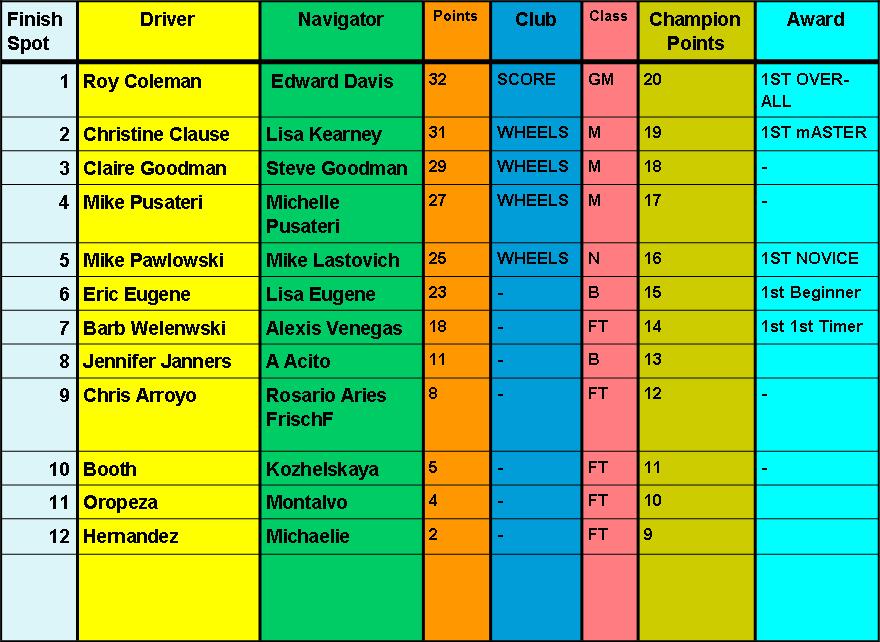 Summer Cruise Results
June 15, 2019


P. Howard/Bautista/GM/1st Overall/40pts

M. Pusateri/D. Pusateri/M/1st Master/60 pts

Coleman/Uchida/M Howard/GM/70 pts

S. Pusateri/M. Puateri/M/80 pts

Lindstrom/Lindstron/GM/90 pt

Stoesser/Stoesser/M/100 pt

Schaeffer/Schaeffer/N/1st Novice/120 pt

Golden/Golden/B/1st Beginner/130 pt

Mckeown/McKrown/B/140 pt




The Famous Puzzler Results
September 2019
Here are the official results of the Famous Puzzler Rallye presented by Wheels Rallye Team.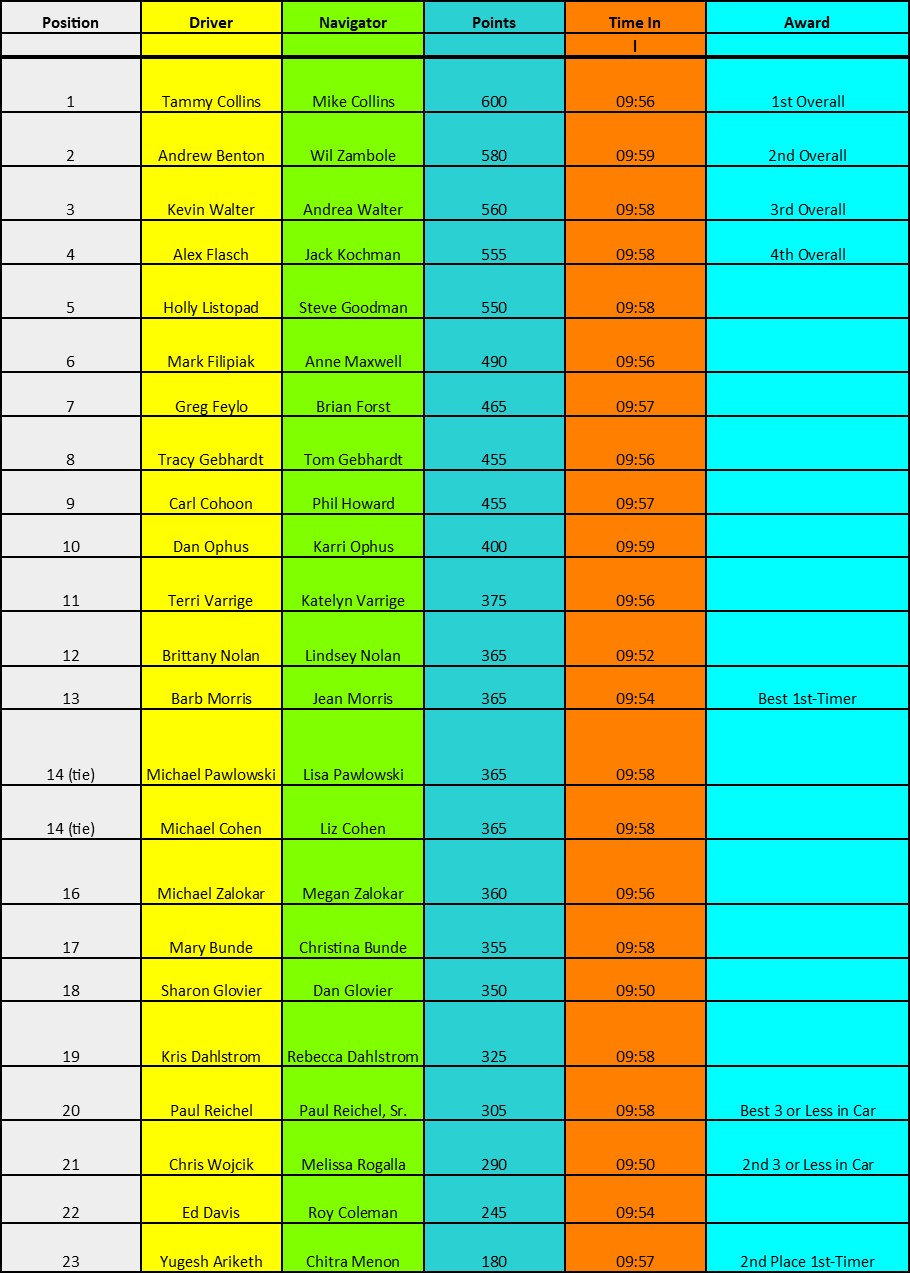 The Famous Ghost Hunt Results
A fun tie looking at great Halloween decorations wa the genesis and design of this years's GHOST HUNT. Of course we had a bevy of tricks too. 28 cars started and 26 finished.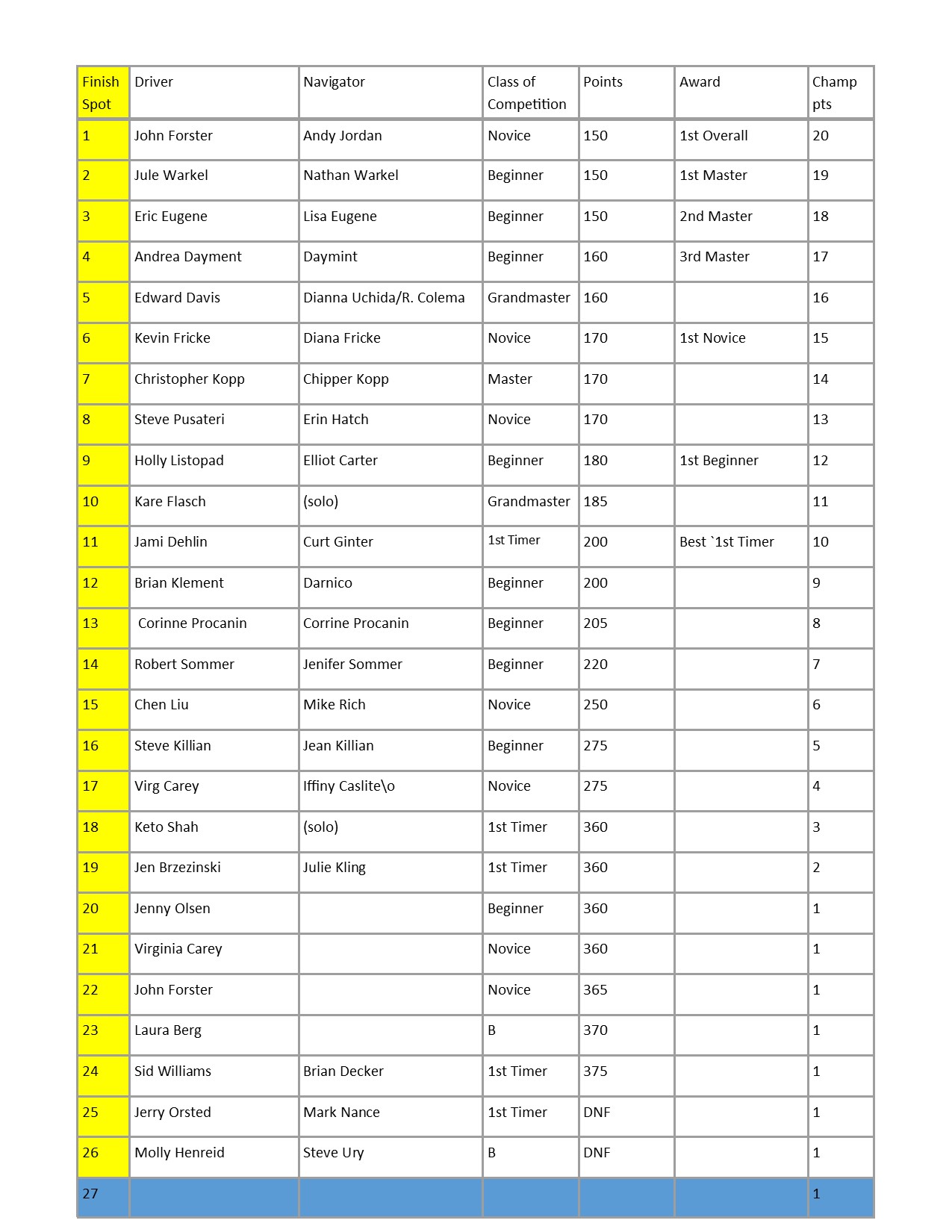 THE CHRISTMAS LIGHT TOUR RESULTS
414 CARS ENTERED YOU CAN STILL ENTER UP TO THE 23RD OF DECEMBER...YS YOU CAN RUN THS ON YOUR OWN AND SEE THE BEST CHRISTMAS LIGHTS. GO TO SCHEDULE. 
RESULTS FORTHCOMING ---- IF YOU MISSED THIS EVENT YOU CAN STILL ENTER...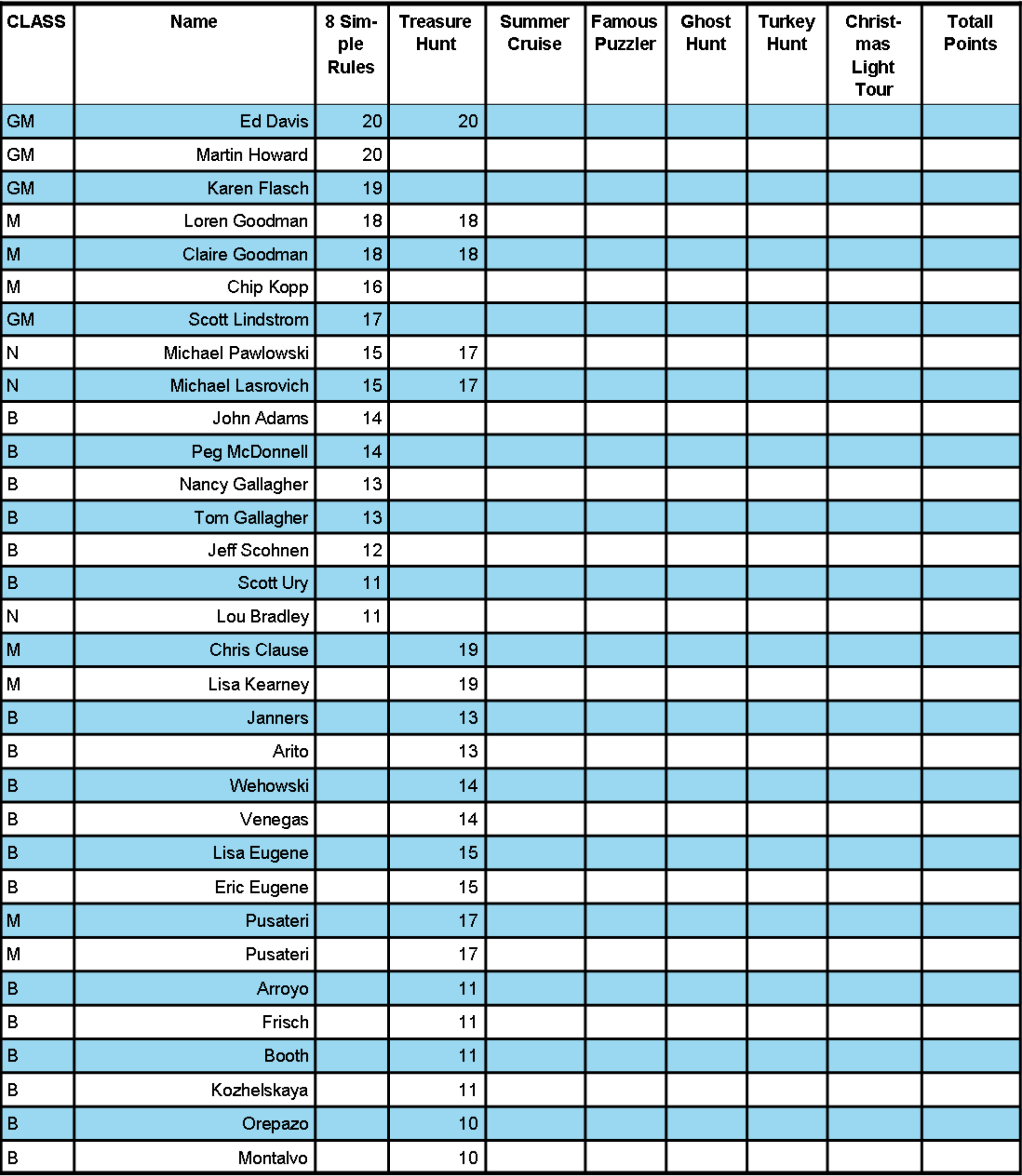 WHEELS
CHAMPIONSHIP
PROGRAM 2019
UPDATE SOON
The Wheels Rallye Team Championship Program is designed to have ongoing competition among area road rallyists. This competition culminates in the final Wheels Rallye Team event, of the year, The Christmas Light Tour.
Participants earn points in each of three categories: Grandmaster, Master, or Novice/Beginner.
Points are awarded for a participant's finish position in the rallye from 20(most) to 1 (less) The most points at the end of the year wins the grand prize trophy - in each class.
Wheels Rallye Team's 2019 Championship program is open to all road rallyists. It is a simple program designed to give you points for your performance and attendance in WHEELS events.
Here are the Rules:
1. Championship program for Novice/Beginner, Master and Grandmaster Rallyists. No points can be earned in any rallye car that contains more than two grandmasters except for The Famous Puzzler Rallye.
2. Champions will be determined by getting points in their respective divisions. A competitor's best 5 (Five) performances determines his overall score.
3. Scoring is done by awarding 20 points to the best finisher and then scaling down to a minimum of 1 point for the 20th finisher and after..
4. If a participant moves up in class throughout the year, he or she will carry the points earned in any lower class with them to the higher class(es).
5. Awards will be presented at The Christmas Light Tour Rallye for Toys For Tots in December 2019.
6. In all cases awards will be determined by actual results. If a tie exists at the end of the year, winner will be determined by attendance at Wheels events.
7. Awards will be trophies, plaques, or other personalized awards, and may include bonus prizes as well.
8. Wheels rallye team is the sole referee in championship point disputes.
Best Yet, you are automatically entered just by coming out and running a
Wheels Rallye Team Event
o